Stone's Guided Hunts invites you to go hunting in Central, Florida for Whitetail Deer, Hogs, Turkey, Quail, Gator and/or Trophy Exotics and is only a little over an hour from Orlando, Florida and about 15 to 45 minutes from Disney World, Lego Land and other theme parks . Transportation available to and from hotels and the Central Florida airport.Our hunting property here at SGH consists of Rye pasture grass, Palmetto berry bushes and Oak trees. Acres of timberland, planted food plots and a year around feeder program. All of this makes for a tremendous Wildlife population.
Stone's Hunts has over 20 years of guiding experience and we only seek to please our customers. Please look through the site and if you have any questions on anything, please visit the contact us page and we'll be happy to help. With over 2200 acres of land, anythings possible. Lodging is also available for hunts spanning more than one day (Visit Lodging).
SGH RANCH OFFERS HUNTING AT IT'S FINEST -
* Exotic Trophy Hunts (See Exotic Animals listed below), Trophy Whitetail Deer, Trophy Hogs, Meat Hogs, Turkey, Quail, Alligator, Coyote and Fresh Water Bass Fishing Guides.
SGH RANCH ALSO OFFERS -
* The Purchase of Fresh Meat by the Pound of Any Animal on the Navigation Bar, List Above. If you are not a hunter and would just like it for dinner. Call for Pricing.
****WildLife Nature Tours****
****************************************************************************************
Carol who is 65 years young and her son Brody had a Great Day on their June Hunt with both having Successful Hunts. Carol shot her Magnificent Trophy Black Buck from 214 yards away. What a Great Shot Carol! Congratulations! Her son Brody shot a Beautiful Trophy Axis Deer with a 7 Mag (his
Fathers gun, who had passed this year). (They did the hunt on Carol's and her husbands Anniversary. Look at those 30 inch antlers! Way to go!
Jim S. from Palm Harbor, Florida got his trophy
Black Buck with his bow from 30 yards, July 23.
Ray B. harvested this Trophy Red Stag with a 30-06
from over 200 yards away.
On August 17th, Nichalos L. (right) successfully killed his first 12 point,
Red Stag with a 308 Winchester rifle from 150 yards, accompanied by
Robert C. (left) and their Guide and owner of SGH, Larry Stone.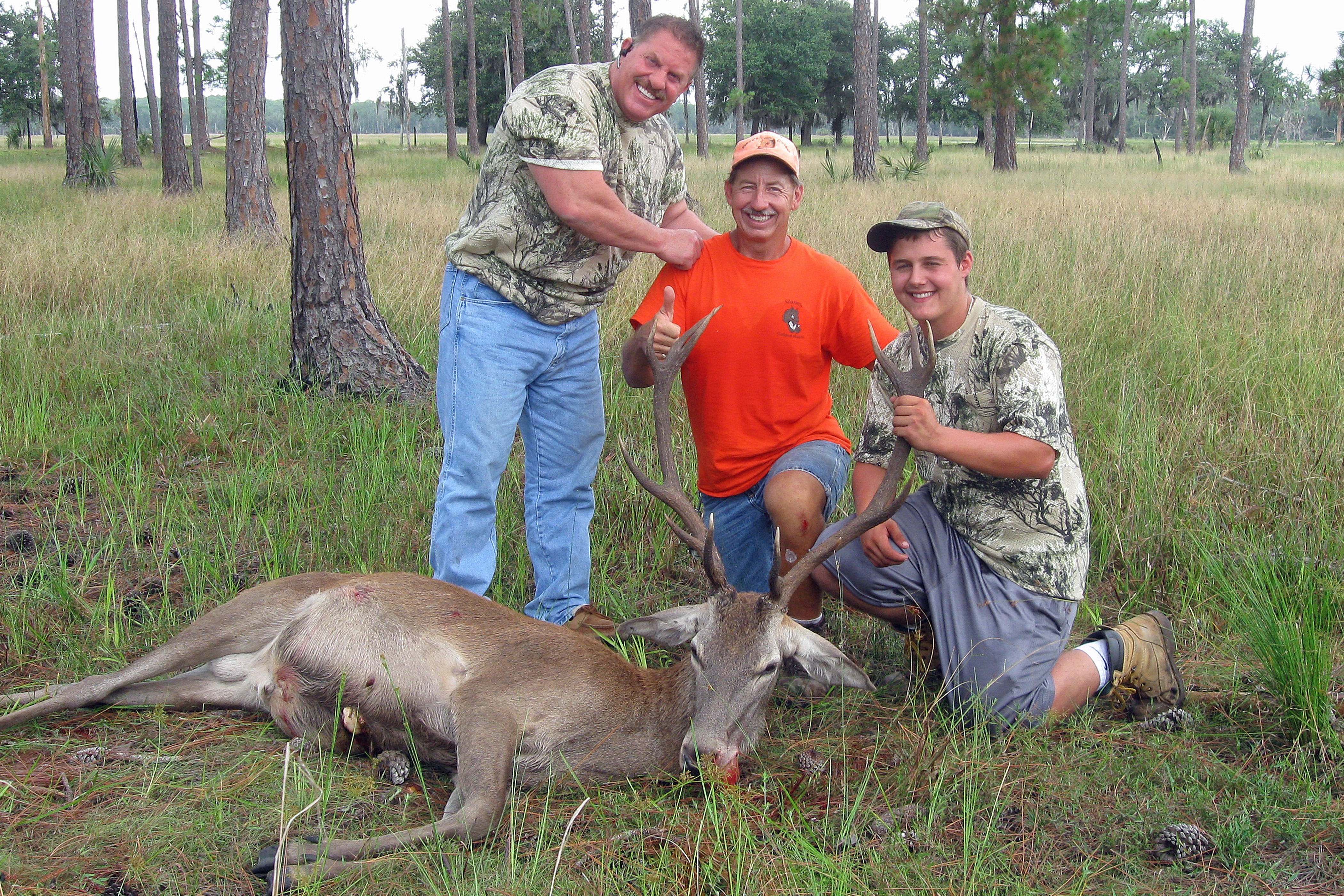 Katrina with her family and her Trophy Fallow Deer
Front Row, Left to Right: Ethan, Aiden and Katrina
Back Row: Kelly and Dennis
Ray with his Trophy Axis Deer and his Guide Larry
Trophy Axis Deer - Exotic
Gary with his Trophy Pere David Deer and his Guide Larry
Trophy Pere David - Exotic
This Pere David's Deer was shot this April by Carol M.
We Except these Credit Cards - Discover, Visa, Master Card, American Express or PayPal
20% Gratuity is compulsory
* Trophy Exotic List *
Fallow Deer $3200
Axis Deer $3200
Pere Davids Deer $4200
Red Stag $4200
Black Buck $3200
Water Buffalo $3500
Watusi Steers $2500
~~~~~~~~~~~~~~~~~~~~~~~~~~~~~~~~~~~~~~~~~~~~
Meat Deer - Starting at $800,
Management Deer - Starting at $2000
*** GIFTS CERTIFICATES AVAILABLE ***
On any single hunt or combo hunts
GUIDELINES / HONOR CODE
It is the intention of SGH to provide the hunter, our guest, a reasonable opportunity to harvest whitetail bucks of the caliber advertised. In the event that opportunity does not present itself, you will be refunded the full booking fee. In the event a shot is attempted and/or a deer is wounded, the obligation of SGH deer hunt is met. Every reasonable attempt will be made to recover a wounded deer.
Your guide will confer and coordinate with you to determine deer to be harvested prior to taking a shot. You must receive approval from the guide before any shot is taken. Presentation of a whitetail buck in your class, approved by your guide for harvest will fulfill the obligations of SGH - there will be no booking fee refund.
Safety is the utmost important factor for any of our hunts. Alcohol consumption of any kind will end hunting for that day. Be sure to follow our instructions and rules provided by our guides for an unforgettable hunting and harvesting experience to be remembered forever.
* Gator Hunts *
Johnny with his Trophy Gator
Mr. Stan M. harvested this 10 foot 2 inch Gator with one shot.
Ray B. and his Trophy Wild Boar Hog.